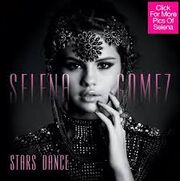 Selena Marie Gomez is an American singer and actress. She made her debut as a child actress in Barney & Friends. In 2007, Gomez came to prominence as a starring cast member in the television series Wizards of Waverly Place.
She appears as a main character in Spring Breakers, the film this wiki is based around, where she played the shy, wise,and beautiful Faith.
Selena is currently Taken being that she is back with her Ex Justin Bieber but they are a on again off again couple. She has one many awards and her new album is called "Stars Dance", Her first big hit from the album is "Come and Get it". Her second single from "Stars Dance" is "Slow Down". And it has been leaked that she has a new song called "Love Will Remeber" that has a realife voicmail from her boyfriend Justin Bieber.
NOTE: Vote for Selena Gomez/Faith in the Spring Breakers Wiki Awards!! The winners will be annonced on July 24th 2013!!
Information
Edit
Date of birth: Born July 22, 1992 (age 20)
Parents: Mandy Teefey, Ricardo Gomez and Brian Teefey (step-dad)
Siblings- In 2011 her mom had a miscarage and that baby would have been Scarlett Teffey and now in 2013 she has a new baby sister named "Gracie Elliot Teefey."
Height- 5 "5'
Weight- 110 lbs
Fun Facts
Edit
She has two dogs. (One died on June 3rd 2013.)
She is obsessed with Michael Cera.
She has made four alumbs in four years.
Her latest single is "Come And Get It".
She has a crush on Justin Bieber.
Her best friend is Taylor Swift.
Selena says she is very much like her character Alex Russo.
She is half Caucasian and half Hispanic.
Her favourite girl's name is "Ella0."
Her favourite colours are green, black, blue, purple and yellow.
She has a baby sister named Gracie Elliot Teefey.
Her hair color is originallly brown, but she goes between black and brown.
Her nick names are  Conchica (her mom, herself, Taylor Swift and Justin Bieber), Sel (Her mom, All her besties and Justin Bieber), Selly (Her mom and Justin Bieber) and Selenator (All fans).
External Links
Edit