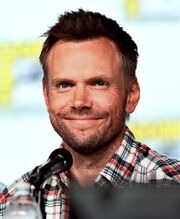 Joel Edward McHale (born November 20, 1971) is an American comedian, actor, writer, television producer, and television host known for hosting The Soup, portraying Jeff Winger on the NBC/Yahoo! sitcom Community, voicing Elliot in the CGI comedy film Open Season 2, and appearing in such films as Spider-Man 2, Spy Kids: All the Time in the World, Ted, What's Your Number?, and Blended, as well as Spring Breakers: The Second Coming (where he plays Tyrone).
External links
Edit
Ad blocker interference detected!
Wikia is a free-to-use site that makes money from advertising. We have a modified experience for viewers using ad blockers

Wikia is not accessible if you've made further modifications. Remove the custom ad blocker rule(s) and the page will load as expected.