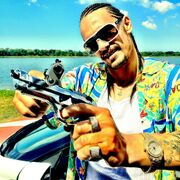 He is the main character or protagonist of spring breakers. He is a drug dealer/rapper that bails the 4 girls out of jail. He becomes their friend, except for
Faith
who is scared of him. He has and ex best friend
Archie
, who is his enemy and competition now in the movie. He has a sexual relationship with 
Brit
 and 
Candy
 towards the end of the movie. He is killed by one of
Archie
's men in the end, suffering a bullet to the head, while Brit and Candy go onto steal
Archies
car after killing
Archie
and all his men.
Age-27
Status-KIA(Dead)
Friends- Candy and Brit
Birthday- May 11th
Parents-Unknown
Relationships- Brit(Crush/Kissed/Had Threesome With) and Candy(Crush/Kissed/Had Threesome With)
"Seems like a dream"
"I just wanted to be bad"
 "Look at my shit!"
 "I'm as bad as they is"
 "Lets cause some trouble now"
 "Tough bitches up in here"
 "I'm a fuckin gangsta' with a heart of gold
 "Spring break forever"
"We do it right here in Saint Petes"
Ad blocker interference detected!
Wikia is a free-to-use site that makes money from advertising. We have a modified experience for viewers using ad blockers

Wikia is not accessible if you've made further modifications. Remove the custom ad blocker rule(s) and the page will load as expected.